Conference Home >
NCAFPM CONFERENCES
The North Carolina Association of Floodplain Managers holds two conferences each year: a spring Annual Conference, typically in April or May on the East coast; and a Fall Floodplain Institute in October or November in the mountains of North Carolina. Both conferences provide opportunities to attend workshops and presentations, take the Certified Floodplain Manager exam, and mingle with your fellow floodplain managers.
NCAFPM 30th Annual Conference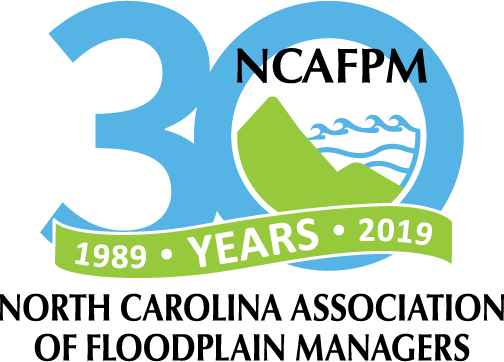 May 5-8, 2019

Wrightsville Beach, NC
Sponsorship Chair - Laura Arnold
Program Chair - David Goode
Conference Chair - John Fullerton
*NOTE NEW DATE AND LOCATION
---
---
ASBPA 2019 National Coastal Conference
Myrtle Beach Convention Center
Myrtle Beach, SC
We are honored to be partnering with ASBPA on this conference. Please click here for the Call for Abstracts (due May 4, 2019). For more information, go to ASBPA.org/conferences.
Conference Presentations
2018 Fall Floodplain Institute
October 17-19, Asheville, NC
Program (pdf)
Presentations (Google Drive)
2018 Annual Conference
April 15-18, Wilmington, NC
Program (pdf)
Presentations (Google Drive)

2017 Annual Conference
April 20-23, Atlantic Beach, NC
Program (pdf)
Presentations (Google Drive)
2016 Fall Floodplain Institute
October 19-21, Cherokee
Program (pdf)
2016 Joint NC/SC Annual Conference
April 10-13, Myrtle Beach, SC
Program (pdf)
2015 Fall Floodplain Institute
October 21-23, Cherokee
Program (pdf)
Presentations (Google Drive)
2015 Annual Conference
April 26-29, New Bern
Agenda (pdf)
Presentations (Google Drive)

---
Locations

Annual Conference
1989 - Boone
1990 - Asheville (ASFPM Natl Conf)
1993 - Kill Devil Hills
1995 - Charlotte
1996 - Wrightsville Beach
1997 - Kinston
1998 - Myrtle Beach (w/South Carolina)
1999 - Wrightsville Beach
2000 - Atlantic Beach
2001 - Charlotte (ASFPM Natl Conf)
2002 - Atlantic Beach
2003 - Asheville
2004 - New Bern
2005 - Boone
2006 - Myrtle Beach (w/South Carolina)
2007 - Kill Devil Hills
2008 - Wrightsville Beach
2009 - Atlantic Beach
2010 - Wrightsville Beach
2011 - N. Charleston (w/South Carolina)
2012 - New Bern
2013 - Wrightsville Beach
2014 - Atlantic Beach
2015 - New Bern
2016 - Myrtle Beach (w/South Carolina)
2017 - Atlantic Beach
2018 - Wilmington
Fall Floodplain Institute
2006 - Greensboro
2007 - Asheville
2008 - Boone
2009 - Asheville
2010 - Cherokee
2011 - Boone
2012 - Asheville
2013 - Cherokee
2014 - Asheville
2015 - Cherokee
2016 - Cherokee
2017 - Charlotte