CFM Mentor Program
Committee Contacts
Holly B. White, AICP, CFM
Town of Nags Head
252.449.6041


holly.white@nagsheadnc.gov
Mike Wayts, P.E., CFM
Freese and Nichols, Inc.
919.582.5860


mike.wayts@freese.com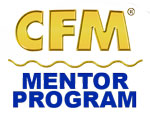 Certified Floodplain Manager (CFM)
Mentor Program
The North Carolina Association of Floodplain Managers (NCAFPM) CFM Mentor Program consists of a team of CFMs assembled by NCAFPM to assist with problems, issues, and requirements related to the National Flood Insurance Program (NFIP) in North Carolina.
The CFM Mentor Program will assist floodplain managers, planners, consulting engineers, community floodplain managers, CFMs, and elected officials in building key relationships and accessing information and answers about issues and problems related to floodplain management.
The NCAFPM - CFM Mentor Program is also a valuable means for supporting the development — even accelerating the professional growth — of existing and experienced CFMs. Individuals who share knowledge, experiences, and skills to benefit someone else provide valuable leadership. Both mentors and mentees will learn to hone their floodplain management skills.
NCAFPM recognizes the need for mentoring assistance and has created a committee to further develop a mentor program. The NCAFPM CFM Mentor Program is not intended to replace seeking official interpretations or clarification on floodplain management issues from State NFIP Officials or FEMA Region IV.
Becoming A Mentor
The most important requirement in becoming a CFM Mentor Team Member is a willingness to share your experiences and expertise. Mentors must also:
Have a minimum of three (3) years of experience
Fill out and have the mentor application signed by your supervisor
Provide a description of your qualifications
Provide CFM documentation (CFM number)
Provide two (2) letters of references
To best utilize your expertise and skills, you will need to identify specific topic areas on the application that you would hope to serve as a mentor and provide a description of your qualifications to mentor in that area. The NCAFPM CFM Mentor Committee will review all applications and notify applicants once a decision is made.
Mentors are expected to take their role seriously and work with the CFM mentor committee to ensure that information being distributed is accurate and consistent. This may involve training that is specific to their particular topic area. Training and guidance will be made available at conferences, regional training opportunities, and through written correspondence. Mentors should be available to answer questions via phone, email, or in person from mentees in the specific topic areas they hold expertise within and are approved in. Mentors will periodically be asked to report the number of mentees they assist and frequent questions discussed.
Through active participation in the CFM Mentor Program, mentors who report and return required documentation will receive:
Discounted NCAFPM membership
Opportunity for continued professional and self-development
Eligibility for mentor of the year award
Conference mentor badge and special mentor luncheon
Mentees
Anyone can utilize the program by accessing the list of topic area mentors on the website (coming soon!). However, we would like to officially sign up mentees so we can track the use, target training emails, ask for feedback on the program, and provide the most up to date information on trending topics.
Mentees will benefit from individualized assistance with experienced professionals. Mentors will work with you to clarify concerns and avoid issues that others have already encountered. Through this tailored assistance, mentees will be enabled to grow professionally.
Downloadable Documents
Mentor Program Handout
Mentor Application and Tracking
Topic Areas
Building Code
Coastal Issues
Certified Floodplain Manager
CRS (Community Rating System)
Dams
Elevation Certificates
Environmental Issues/Permitting o Ethics
Flood Insurance
Floodplain Mapping
General
Grants
Hazard Mitigation Plans
Local Ordinance Administration
Mitigation
Modeling
NFIP Rules & Regulations
RCS Programs and Projects
Stormwater Programs
Post Disaster Issues